Discover Why Diarrhea Occurs and How to Naturally Treat It; When you have diarrhea, your bowel movements (or stools) are loose and watery. It's very common and usually not serious.
Many people get diarrhea once or twice each year. It normally lasts 2 to 3 days, and you can treat it with over-the-counter medicines. Some people get it more often as part of irritable bowel syndrome (IBS) or other conditions.
Signs of Diarrhea 
You may have:
Bloating in your belly
Cramps
Thin or loose stools
Watery stools
An urgent feeling that you need to have a bowel movement
Nausea and throwing up
Very serious signs include:
Blood or mucus in your stool
Weight loss
Fever
If you have watery stools more than three times a day and you're not drinking enough fluids, you could become dehydrated. That can cause serious complications if it's not treated.
Causes of Diarrhea  
Usually, diarrhea is caused by a virus that infects your gut. Some people call it "intestinal flu" or "stomach flu."
Other causes include:
Alcohol abuse
Allergies to certain foods
Diabetes
Diseases of the intestines (such as Crohn's disease or ulcerative colitis)
Eating foods that upset the digestive system
Infection by bacteria (the cause of most types of food poisoning) or other organisms
Laxative abuse
Medications
Overactive thyroid (hyperthyroidism)
Radiation therapy
Running (Some people get "runner's diarrhea" for reasons that aren't clear)
Some cancers
Surgery on your digestive system
Trouble absorbing certain nutrients, also called "malabsorption"
Diarrhea may also follow constipation, especially for people who have irritable bowel syndrome.
When Should I Call My Doctor?
Call your doctor immediately if you have:
Blood in your diarrhea or black, tarry stools
A fever that is high (above 101 F) or that lasts more than 24 hours
Diarrhea lasting longer than 2 days
Nausea or throwing up that prevents you from drinking liquids to replace lost fluids
Severe pain in your abdomen or rectum
Diarrhea after coming back from a foreign country
Also, call your doctor right away if you have diarrhea and any of these signs of dehydration:
Dark urine
Smaller than usual amounts of urine or fewer wet diapers than usual in a child
Rapid heart rate
Headaches
Dry skin
Irritability
Confusion
Discover Why Diarrhea Occurs and How to Naturally Treat It
Discover the best natural remedies to treat diarrhea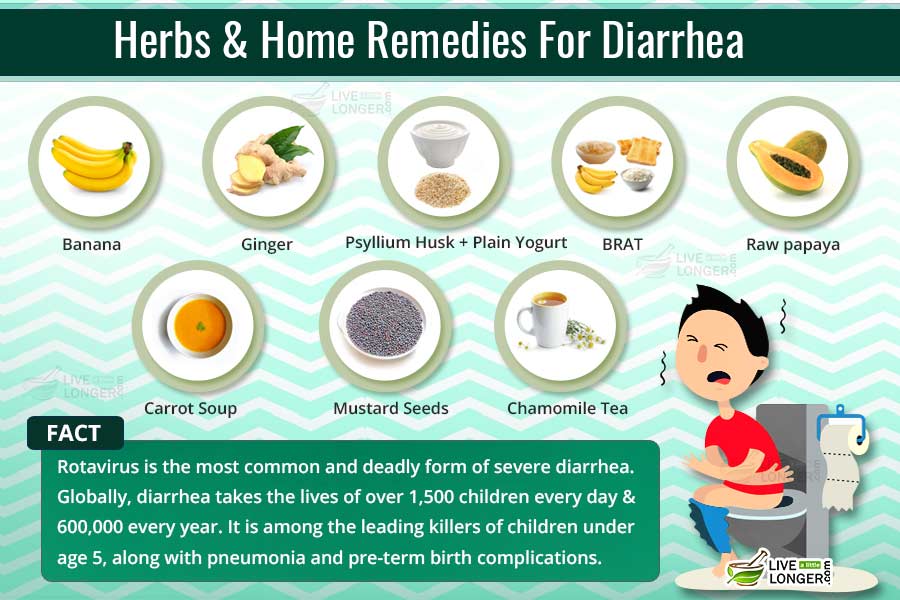 Dealing with diarrhea symptoms can be so uncomfortable and unpleasant that you're tempted to try anything for relief. But the best answer isn't the quick fix: commonly prescribed antibiotics or drugs that slow the movement of the intestinal tract. Instead, I suggest the following natural remedies to treat diarrhea that will ultimately result in a healthy intestine rich with the proper amount of beneficial bacteria that leads to good bowel movements.
Feed your good gut bacteria
Close your ileocecal
Modify your diet
Try clay: natures's anti-diarrheal
Feed Your Gut With Good Bacteria 
If you have a healthy intestinal tract, you have over 400 different species of micro-organisms living there. And the beneficial bacteria that reside in your bowel do constant battle with the germs and harmful, disease-causing bacteria that threaten them on a daily basis. Diarrhea often occurs when the disease-causing bacteria begin to overwhelm the beneficial bacteria in your system. So to restore the proper bacterial balance in the bowel and stop diarrhea, you need to supply your intestinal tract with more beneficial bacteria. A great all-natural way to help friendly intestinal bacteria grow is to include more cultured and fermented foods in your diet.
In particular, yogurt has been used for centuries to treat diarrhea. A study at a New York hospital confirmed that between 1/3 and 1/2 cup of ordinary yogurt stopped severe infant diarrhea twice as fast as the standard anti-diarrhea drug Neomycin Kaopectate. It works so effectively at preventing diarrhea in the first place, it is routinely used for that purpose in hospitals throughout Russia, Japan, and Italy.
But the type of yogurt you eat makes a difference. The label of any yogurt you buy should say it has "active cultures." Some companies pasteurize the product after it's been made, and this kills off the remaining beneficial bacteria making it useless. Other cultured foods that benefit the digestive tract by providing beneficial bacteria include buttermilk, cottage cheese, whey, and kefir. And my favorite fermented food (besides unpasteurized beer, of course) is homemade sauerkraut. It provides one of the widest varieties of beneficial bacteria that are known to protect against all kinds of bowel problems, including diarrhea.
If you don't have access to fermented and cultured foods, or don't care for their taste, I recommend taking a quality probiotic product daily to help encourage the growth of friendly bacteria.
Take a Supplement as an Option 
When it comes to stopping diarrhea and helping to re-establish the presence of healthy bacteria in the lower bowel, I've never found another supplement to be as effective as a product called Lactic Acid Yeast wafers made by Standard Process Laboratories in Palmyra, Wisconsin. These wafers work the same way as lactic acid–fermented food products do in helping to promote the growth of friendly bacteria in your bowel. Two wafers with each meal for adults will stop diarrhea, often within the same day.
Close Your Ileocecal Valve 
Diarrhea can sometimes be caused by an ileocecal valve that isn't working properly. The ileocecal valve, which is located between the small and large intestine, serves two purposes. First, it acts as a block that prevents the toxic contents of the large intestine from backing up into the small intestine. Second, it keeps the food products in the small intestine from passing into the large intestine before the digestive processes have been completed. When this valve stays open when it shouldn't, it results in diarrhea.
There are a few common reasons why the ileocecal valve doesn't always work right, which causes diarrhea. Sometimes spicy or roughage-type foods will irritate the valve and cause it to get stuck. Stress and emotional trauma can also cause the valve to malfunction. And I've personally found that those who have had their appendix removed seem to have more problems with the valve than others. Luckily, there are a couple of simple things you can do to close up an ileocecal valve that is stuck open and causing diarrhea:
Massage your ileoceal "reflex" points. By rubbing out the points illustrated here, you can unstick the valve to stop diarrhea. The areas illustrated should be massaged with firm pressure for about 10 to 20 seconds each (it is not beneficial to rub the points any longer than that. In fact, it may negate the effect).
Hold the ileocecal valve shut for several minutes. Place your hand over the valve (which is located about halfway between the belly button and the right "hip bone") and while pushing in, pull up toward the left shoulder. You can also place an ice pack made of cold water or ice over the valve for about 15 to 20 minutes. This process can be repeated if necessary.
Adjust Your Diet 
Eliminate spicy foods, alcohol, cocoa, chocolate, and caffeinated products for a week or so. And it's also helpful to eliminate all roughage-type food for a short period of time until the diarrhea ends.
Consider Clay: Nature's Anti-Diarrhea
Clay has a long history of being used internally, and various clays have proven very effective in the treatment of diarrhea. One study from the 1960s involved 35 different individuals whose diarrhea problems were being caused by food poisoning, food allergy, viral infection, spastic colitis, or mucous colitis. Two tablespoons of smectite clay (montmorillonite) were given with distilled water three times a day. (In the food allergy cases, six tablespoons of clay per day were used.) In 34 of the 35 individuals, the diarrhea was stopped in an average of 3.8 days, and bowel movements reduced to an average of 1.8 per day. Food allergy–induced diarrhea proved to be the most difficult cases, whereas those from viral infections resolved the quickest.
Here are some things to consider when using clay to treat diarrhea: 
At the dosages mentioned in the study above, simply mix clay powder with juice or water. Make sure the water is either spring water or distilled if possible. When you mix clay, never let it come into contact with metal. To avoid any possible reaction with metal, always use wood utensils and glass, clay, or ceramic containers.
Since clay has such strong absorptive and adsorptive properties, it is best not to take it with your vitamins or at the same time you take prescription medications. I would suggest taking it on an empty stomach and then waiting at least 4 hours before taking any necessary medication.
Without supervision, ingesting clay isn't recommended for someone with an intolerance for iron or for someone with high blood pressure.
One source of clay that I've used for years and can highly recommend is Pascalite, Inc.
Sources:
http://www.drdavidwilliams.com/digestive-health-beneficial-bacteria
http://www.webmd.com/
http://www.pascalite.com/